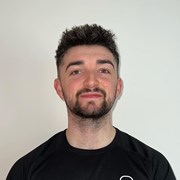 Jake Dobbie
Hi everyone, my name is Jake and I simply want to help you become the best version of yourself. Since a young age, I have always been involved in sport and fitness which has led to my passion in maintaining an active lifestyle.
My love for the gym began when I started university, where I studied Sport and Fitness. The course gave me the skills and knowledge to improve my physical and mental health through exercise. Studying at Honours Degree level meant I delved deep into the research world which has equipped me with vast knowledge on health and fitness.
During my years of academia, I learned how to manage my lifestyle. I worked two jobs, had weekly assignments, socialised with friends, and still managed to exercise regularly. This proved to me that you can still achieve your fitness goals whilst maintaining a balanced lifestyle.
By training with me, you will become more confident in the gym and learn how to make exercise enjoyable, which will help you towards achieving your goals.
In short, I want to help YOU!
Please get in touch if you have any questions at all, I'd be delighted to speak with you!
Specialist Areas
Body confidence
Body fat reduction
Muscle tone and development
Nutritional guidance
Special populations
Strength and conditioning
Weight loss
Qualifications
- BSc (Hons) Sport and Fitness
- HND Fitness, Health, and Exercise
- HNC Fitness, Health, and Exercise
- Level 3 Personal Trainer
- First Aid trained