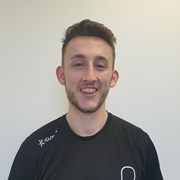 Jake Moore
My roles and responsibilities as your PT:
1)I am an un-biased observer. My job is to highlight both strengths and areas for improvement. I will be honest and direct with the intention of always making progress.
2)I am an open-minded educator. I will present you with options for success and advise you on what I think will work best for you as an individual.
3)I am a persistent motivator. It is my duty to maintain positivity even when you are lacking. Sharing your journey with another person will keep you moving forward, even on the tough days.
4)I am an optimistic goal setter. My knowledge and experience gives me insight into the potential of the human body. Guiding you to unlock your potential is at the top of my priorities.
Specialist Areas
Functional specialist
Injury prevention and rehabilitation
Postural correction
Sport specific training
Strength and conditioning
Qualifications
Post-Graduate Diploma in Strength & Conditioning
BSc (Hons) Sports Therapy
Level 3 Personal Training Certificate