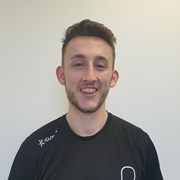 Jake Moore
Is INJURY stopping you from training?
Are you struggling to reach your personal health and fitness GOALS?
Do you want a NEW way of training?
If the answer to any of these questions is YES, then you may need assistance in order to start seeing the progression you desire.
My role is to identify your individual needs and goals. From which a tailored fitness plan will look to eradicate any limiting factors and allow for OPTIMUM progression in both PHYSICAL and MENTAL wellbeing.
Please feel free to get in touch and we can work together to MAKE A CHANGE FOR THE BETTER!
Specialist Areas
Functional specialist
Injury prevention and rehabilitation
Sport specific training
Strength and conditioning
Qualifications
BSc Sports Therapy
PG Dip (Strength & Conditioning)
L2 Gym Instructor