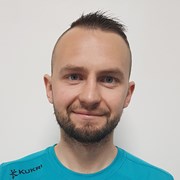 Jakub Lewandowski
I'm formed in psychology and believe in the importance of balance between body and mind, I'm also passionate about the gym and the whole lifestyle associated with strength training and healthy nutrition.
It may sound trivial, but what drives me is just wanting to be better.
I changed my life for better so I could inspire and help others improving theirs.
Knowing that everyone has a different path, their own unique experiences, problems, goals and dreams, each of us is different and needs an individual approach, I prioritised the understanding of you without judgment and the best willingness to help achieve your goals.
I studied psychology to help people, and strength training and a healthy lifestyle are also ways of doing that. If you can combine it all together, why not? 
I became one of Body Revolution mentees, spent over 12h per day learning and studying for my course, hours at the gym mentored by Maciej and taking notes of every session!
Body Revolution team is specialized In fat loss and lifestyle improvements and going extra mile for you it's inevitable!
You don't know how to cook? Enjoy a meal out? Don't worry, we got your back and we will orientate you through all that.
We have almost 100 clients under our help and we look individually and uniquely to each one of them.
If you struggle to lose weight, let me know.
I will help you achieve your goals.
Specialist Areas
Body confidence
Body fat reduction
Muscle tone and development
Nutritional guidance
Weight loss
Qualifications
Level 2 Fitness Instructor
Level 3 Personal Trainer 
First Aid