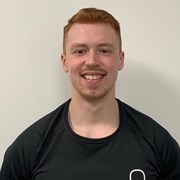 Jamie O'Toole
Hi, I'm Jamie...
… And I'm eager to help you reach your goals and more! I always look to assist clients on how to train effectively, safely, and in a way that makes you want to get stuck in.
I have 6+ years of experience working with everyday people and athletes. I've made the mistakes and learned the lessons; having planned, applied, and refined the methods that I've picked up along the way.
My passion is in the process. Your input and my guidance in goal-setting and planning through to carrying out the sessions, will make for an effective and sustainable experience. Seeing people achieving more than what they could do beforehand is important, and the most gratifying part of what I do.
Considerations of mine include but are not limited to: habit management, mental health, and the mutual agreement that we do the best we can, together.
So, if you are this person who knows there's more in the locker, that there must be better ways to tick the boxes, in need of a fresh and effective approach, note down the contact details on the right-hand side!
Specialist Areas
Muscle tone and development
Sport specific training
Strength and conditioning
Qualifications
Level 3 PT
Level 2 Fitness Instruction
Level 4 Strength & Conditioning (in progress)