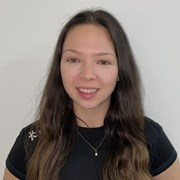 Jenny Burley
Foodie, obsessed with my dog Nala, and fun fact - I'm from Hong Kong!
Once the shyest person you'd ever meet, terrified of stepping away from my trusty treadmill and crosstrainer, I overcame gymtimidation and built myself and body confidence through strength training. It completely changed my mindset and guided me to a balanced lifestyle.
My ambition as a Trainer? To coach you through a holistic view of your goals, and break through misconceptions that strength training makes women get 'big' or 'bulky'. My approach is centred around weight training and flexible nutrition, whilst supporting you mentally throughout your journey both in and outside the gym.
Finding a happy balance is key to feeling your best and transforming those healthy changes into a lifestyle that suits you, to bring a better you!
Drop me a text, email, or message on Instagram to find out how I can help you, or just come have a chat with me if you see me on the gym floor :)
Specialist Areas
Body confidence
Injury prevention and rehabilitation
Muscle tone and development
Nutritional guidance
Postural correction
Qualifications
Level 3 Certified Personal Trainer
Level 2 Gym Instructor
Level 4 Certified Nutrition Coach