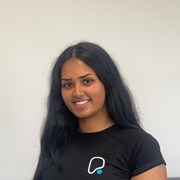 Jeny Ramchande
Hi I'm Jeny,
I am a current sports & exercise science student. 
Are you new to the gym & have absolutely no clue as to where you should start or you're struggling to achieve your goals? 
My current research into PCOS as well as experiencing the symptoms of PCOS helps me to understand what situation you are in. 
I can create a programme that is individually tailored to your goals yet is still simple, easy and effective. 
I help individuals lose body fat and build confidence whilst still enjoying the foods they love. 
Please feel free to say hello to me if you see me around the gym & contact me if this sounds like something you need help with. 
Specialist Areas
Bespoke plan
Body confidence
Body fat reduction
Functional specialist
Muscle tone and development
Nutritional guidance
Persistent motivation
Weight loss
Qualifications
Level 2 Gym Instructor
Level 3 Personal trainer
Level 4 Diabetes & Obesity management
Women Specific Training
Research into PCOS
Qualified Life Coach
T3 Coach
Padwork
Circuit Instructor
Group Indoor Cycling Instructor
Outdoor Fitness
Sports Conditioning
Exercise Referral
Emergency first aid at work