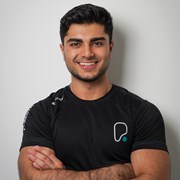 Jiten Melwani
You're new to the gym, don't really know what to do, and feel like everyone's watching you? You've tried everything you've seen online, and still can't see your abs? You used to work out, but didn't see any results so you gave up? If this sounds like you, then I'm your new coach.
Whatever your goals may be, I will help you build the foundations you need to reach your goals as fast as humanly possible! My past clients have praised me on my vast knowledge and sheer enthusiasm for fitness, and my friendly, laid back personality (I'm from the Caribbean;).
Train with me and you're guaranteed to see results in 60 days. If not, you'll get 100% of your money back. It's really that simple!
I pride my unique training style on three simple words: desire, dedication and discipline. My goal is to gradually help you form habits in order to change your identity completely. Imagine if people referred to you as 'someone who works out'… then that will be a part of who you are, and you'll love yourself for it!
Specialist Areas
Bespoke plan
Body confidence
Body fat reduction
Muscle tone and development
Nutritional guidance
Persistent motivation
Weight loss