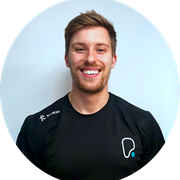 Joel Sorby
Hi, I'm Joel. 
I started to get into fitness during secondary school as I wanted to improve my physical appearance (often fluctuating between being skinny and a bit on the chubby side!). This continued into university when I started to learn more about programming and nutrition, lowering my body fat % and increasing muscle mass/strength to help my sporting performance. Over recent years I have played several sports at a semi-professional level and have been offered to play American football across Europe. 
The more time I spent in the gym, not only did I learn so much about the physical side of fitness, but I also became more aware of the lack of confidence and anxiety that many people will experience around going to the gym and establishing a routine to achieve the goals they have. These experiences drove me to complete my PT Qualifications and achieve a further qualification in Mental Health First Aid to ensure I could provide ongoing qualified mental well-being support to anyone who may require it. 
My approach as a PT is to put you at the centre of everything I do - I help you achieve your goals by enjoying your workouts, food, and making the process as simple as possible. I will help you every step of the way to get you to where you want to be, and provide continuous guidance so your goals become bigger and bolder! 
Get in touch or say hello on the gym floor for any enquiries! Let's achieve long-lasting change! 
Specialist Areas
Bespoke plan
Body confidence
Body fat reduction
Muscle tone and development
Nutritional guidance
Persistent motivation
Sport specific training
Strength and conditioning
Weight loss
Qualifications
Mental health first aid & mental health at work
Level 3 personal training 
Level 2 gym instructing