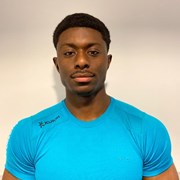 Jordan Nak
I am Jordan Nak,
With 8 years of training under my belt, my aim is to get YOU YOUR RESULTS no matter what they are!
My client's progress is EXTREMELY important to me. I see it as a representation of me so i take that progress and end result very seriously. This, along with my way of going about things tends to be a very good mix if you were to ask any number of my former or current clients.
BEGIN YOUR JOURNEY AND GET TO YOUR TARGETS.
MESSAGE ME FOR:
- Complimentary health consultation.
- Complimentary personal training session with your 1st block of sessions.
- Get 2 complimentary personal training sessions every month, for 2 months with 'large' blocks.
Follow my INSTAGRAM for giveaway(s) + workout and exercises.
Specialist Areas
Injury prevention and rehabilitation
Muscle tone and development
Weight loss
Qualifications
Level 3 personal trainer
Muscle gain and toning 
Injury/Surgery development