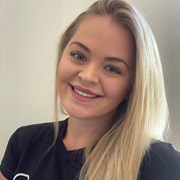 Jordan Saunders
I'm a passionate Personal Trainer with an
ambition to help you discover a healthier
happier you.
Happiness isn't found at the bottom of an
ice-cream tub (trust me I've checked) or by
slogging it away in the gym for 2+ hours 7
days a week!
It's instead by learning about yourself and
what works for you, by looking after
yourself and celebrating the things that
make you, YOU!
I know all the excuses and all the worries
that will be running through your mind right
now; but I want you to know that the fact
you're reading this means you're on the
right path to get to where you want to be.
If you want a chat, maybe with a cheeky
cuppa, to discuss how we can get you to
where you want to be, either grab me in the
gym or send me a message.
Specialist Areas
Body confidence
Body fat reduction
Muscle tone and development
Strength and conditioning
Weight loss
Qualifications
• Sport and Fitness BTEC
• Group Exercise Instructor
• Bootcamp Training