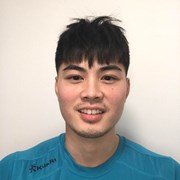 Joshua Dimailig
I specialise in building muscle, gaining strength and weight loss.
If you're tired of not seeing results and don't know where to start look no further.
I will help you realise that you're stronger than you think both physically & mentally. I want to challenge you as much as I expect you to challenge me. I want you to ask me how, why, what, where, when, about anything and everything. I will hold you accountable daily and push your limits each workout.
I want you to gain confidence to lift weights and teach you how to exercise on your own to be able to gain the most out of your time spent in the gym. I want to change your mind-set on what a personal trainer can offer it's not just the 1-hour session with me. I'm not just here to count your reps. It's the daily check-ups, constant training program updates, tracking your weight & measurements every 2 weeks. You're free to contact me whenever for the remaining 168 hours left in the week with any questions. 
With all that being said. Less talk more action, if you don't see any results within the first 30 days I will give you your money back.
Instagram: @joshtype2x
Specialist Areas
Bespoke plan
Body confidence
Body fat reduction
Muscle tone and development
Persistent motivation
Strength and conditioning
Weight loss
Qualifications
FDSC Strength & Conditioning
Level 3 Personal Trainer
Level 2 Fitness Instructor