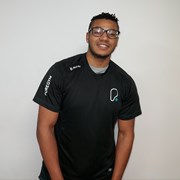 Kamal Nicholls
Hey, Im Kamal..
I have a background of playing basketball and rugby at quite a high level so I'm familiar with how to help you in a sports aspect as well as helping you if your goal is body transformation.
My fitness journey was very inconsistent up until this point, I started and stopped many times however, as I left school and stopped doing all forms of activity I gained a lot of weight compared to how I was (11 stone - 17 stone.) Realising I needed to do something about it I did, I started looking at calorie intake as well as going on jogs; jogs evolved into interval training and HIIT training, while doing those I started lifting weights again. From there I started helping people in the youth club I attended and realised I wanted to help people achieve their goals to the best of my ability so I got my PT qualification.
The you of today can help start the path towards the you of the future you envisioned and I can help you on that path.
Specialist Areas
Body fat reduction
Muscle tone and development
Qualifications
• Level 2 fitness instructor
• Level 3 personal trainer