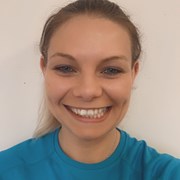 Kamila Zakrzewska
Hi I'm Kamila , ever since I was a young girl growing up in a tiny village in Poland, physical sports was always something I looked forward towards. It was where I shined. It was where I felt happy. I was able to exert all the crazy levels of energy I had into something practical, something positive.  I've always be an active person and handball was the first sport that I enjoyed. But my true sporting passion was later discovered in high school, and this was football. I started my journey with football in high school, and have continued it till this day. 
As a woman who grew up playing football with not only women but also men, I knew I had to get physically stronger and bigger to compete with them. I was always the shorter one. But this didn't deter me from reaching the very best I can be. So I decided to join a gym. And it was this very thing, that made me the woman I am today. It was the best decision I ever made! At the beginning, the aim was to become stronger and fitter so I can compete against others. But what I found was much more greater than that. It allowed me to find me. It empowered me. Not only was I stronger physically, but I became stronger mentally. It allowed me to really knuckle down on what I wanted from life. All I know is I can never go back on gym and the fitness lifestyle.
And this is exactly what I would like to bring to my clients. Not only become stronger physically and look a million dollars. But also a change in mindset through lifestyle changes. This is fundamentally the most important, as it allows you to conquer anything you so wish.
Specialist Areas
Body confidence
Body fat reduction
Muscle tone and development
Nutritional guidance
Strength and conditioning
Weight loss
Qualifications
Level 2 Fitness Instructor 
Level 3 Personal Trainer 
Weight management CPD