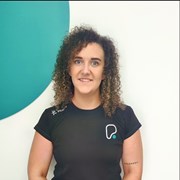 Karla O'Boyle
I'm guessing if you're reading this you'd like some guidance on achieving your fitness goals. 
 I was standing in the exact same place 4 years ago, I'd just finished uni, I was very unfit, I had a gym membership I had been paying for for a year without stepping foot inside the gym (oops) and all I knew is that I needed to change things. I ended up getting a PT and it was one of the best things I've ever done. Strength training is my passion, I did CrossFit for two years and in the last year I have tried my hand at powerlifting which is my new love!
Now I want to share what I've learnt from my own training and my qualifications to help you in the same way my PT helped me! 
I'm a passionate about teaching people to lift weights, I've been that person who spends all their time in the cardio section, worried about how to lift free weights, it can be a scary place especially if you're not sure what you're doing. My ethos as a PT is not only to teach you how but also to educate you as to why so that you can be independent on the gym floor! 
Whether your goal is to increase strength, build muscle, lose fat or improve your overall health, let's work together to make sure you achieve them. It won't always be easy but it'll definitely be worth it! 
Specialist Areas
Body confidence
Strength and conditioning
Weight loss
Qualifications
Level 2 Fitness instructor 
Level 3 Personal Trainer