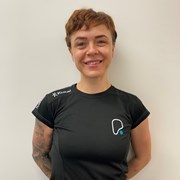 Kate Branson
Hi everyone my name is Kate.
My journey in fitness started around five years ago. Being a single mum to four children, I've been through some really tough times, they made be doubt, question and even dislike myself. One day I decided things needed to change, so I joined PureGym and that's when my life began to change. Through hard work, dedication and very strict time management I attended the gym 2/3 times a week. My anxiety, my dislike of myself slowly disappeared and I began to feel happy in my skin. I felt body confident and full of energy. My children have also joined in my journey as now we are a very active family.
As a result I wanted to share my experience with other women. I want to help other women, who like me felt they are mums and nothing else or even young ladies who just feel low about themselves and don't know how to make that lifestyle change. I want to help them grow in confidence, motivate and help make positive changes to their lives and any goal you have I want to help you achieve them.
Feel free to ask me any questions I'm always happy to help.
Let me know if you are interested in a free consultation or taster session to Personal Training and we will get you booked straight in.
Specialist Areas
Body confidence
Body fat reduction
Nutritional guidance
Persistent motivation
Strength and conditioning
Weight loss
Qualifications
Level 2 and 3 Personal Training 
Spin
Bootcamp
Circuit