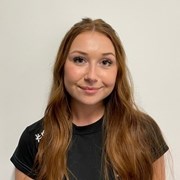 Contact
Free first session offered
Email me
Kate Watkins
When I started training at the gym I was your everyday stereotypical girl; scared of the weights area and unsure of what to do to build muscle in the places I wanted it, while still losing fat. I thought that weight training was just for lads trying to get big and bulky!
Then came the day I found my own PT and now here I am, a qualified personal trainer! I changed my lifestyle and mindset for the better; I want to help you do the same!
I train women aged 17-60 and help them to reach their fitness goals no matter what that may be. I want to show you what amazing results you can achieve through weight training.
My approach:
I provide personalised plans tailored only to you, your body and your goals! I also offer nutritional guidance to help you create a diet that makes you happy AND healthy!
My aim:
To help you regain confidence, love yourself and your body and to help you make long lasting changes to your lifestyle that will impact your health not only physically but mentally. 
Remember, I've been where you are now, I know how it feels. Please contact me via phone or email today to book your free consultation or to ask any questions you have, I'm happy to help!
It's time to make a change. 
Specialist Areas
Bespoke plan
Body confidence
Body fat reduction
Muscle tone and development
Nutritional guidance
Strength and conditioning
Weight loss
Qualifications
 Level 2 Fitness Instructor
 Level 3 Personal Trainer