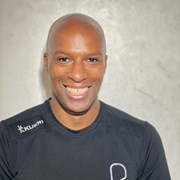 Kenneth Attwell
Change your fear into a love of Fitness.
What did exercise used to mean to me?  
In three words – boring, hard work!
I never used to like exercise, mainly because I had bad memories of sports day at school.
I noticed in my 30's that I was putting on weight, which was having an effect on me physically and on my self-confidence. 

I tried to ignore it, but I found I was lacking in energy.
I was getting out of breath when going up a flight of stairs, my chest wobbled when I ran for the bus and I had poor sleep!
I found that the more I ate, the more depressed I would feel.  I was in a downward spiral.
I thought people would judge me in the gym. 
I tried online fitness videos only gaining injuries and not fitness results.

So I decided I needed to go to the gym but I didn't want to do it alone!
I wanted a Personal Trainer who would understand my needs, discomfort and fears.

It was one of the BEST INVESTMENTS, I have ever made! Not only because I was gaining the results which I felt were unlikely at my age, but also making exercise fun and enjoyable as well as increasing my self-esteem.  
This had a huge positive impact on me.
From there I knew I could do the same and impact change on other people's lives.
I wondered why I hadn't thought of it before I hit my 40's.


I qualified with the YMCA and have not looked back since.
I thrive on helping people to feel great about themselves both in body and mind.
Fitness went from a hate to a love!
I want that for you.
Specialist Areas
Bespoke plan
Body confidence
Body fat reduction
Muscle tone and development
Nutritional guidance
Persistent motivation
Weight loss
Boxing
Qualifications
Level 3 YMCA Personal Trainer
Suspension Training
High Intensity Training (HITT)
Pad Work
Certified Goal Mapping Practitioner