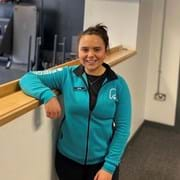 Kirsty McDermott
You have a goal, a vision.
You want to feel healthier, fitter, more confident, less anxious and intimidated in the gym.
You want to be your happiest, most confident, secure and best self.
But you don't know how…
I see you. In fact, I know you already. I WAS you at one point. A few years ago, right here, in this very gym. I was a girl, unhappy in her body, lacking confidence, scared to step into the weights area because I didn't know what I was doing. Shying away at the back of classes. Trying every diet in existence but never getting any closer to my goals…
So what changed? I invested in a personal trainer! I learned how to train, how to fuel my body, how to rest and recover. I learned I didn't need to spend hours a day working out, I didn't need to eat next to nothing, I didn't need to completely overhaul my lifestyle. Instead I just needed to make small tweaks here and there, build some new healthier habits, and now here I am 6 years later working in the very same gym as a Personal Trainer helping YOU reach your goals!
Whether your goal be fat loss, changes in body composition, more confidence, better relationship with food, running your first 5 or 10k, doing your own photoshoot, or just general improved health and fitness - I have you covered! All my clients receive a personalised plan specific to their individual lifestyle and goals - which includes space for all the fun stuff in life!

If this sounds like you, come work with me! Drop me a message or come say hi - let's have a chat and together turn your vision into a reality!
Kirsty / Mini
Specialist Areas
Bespoke plan
Body confidence
Body fat reduction
Muscle tone and development
Nutritional guidance
Weight loss
Qualifications
Level 2 Gym Instructor
Level 3 Personal Trainer
First Aid Qualified
EIQ Certified Nutritionist