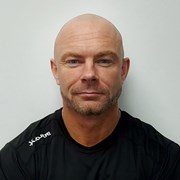 Kris Salisbury
Hi, I'm Kris,
I've been a gym member for over 20 years and I've seen most diet and training fads come and go but one thing that never leaves is hard work and commitment.
I'm here to work with all individuals, from beginner to advanced levels, who need guidance, motivation and support in reaching their fitness goals along the way. In reaching your goals, I want to help you understand why we do things a certain way, how you are able to sustain the changes we make and put nutrition and training foundations in place for the long term future of yourself.
You don't need to be the strongest or the fastest person in the gym, just have the heart, desire, and commitment to reach your goals and together we will bring out the best in you.
Fitness is 100% mental and your body won't go where your mind doesn't push it. I'll help you discover how good you can really be.
Specialist Areas
Body fat reduction
Muscle tone and development
Nutritional guidance
Qualifications
 Certified Level 2 - Gym Instructor
 Certified Level 3 - Personal Trainer
 Certified Nutrition Coach
 Certified Optimum Performance Training