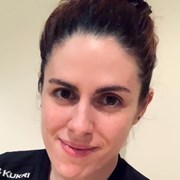 Lara De La Rosa
Hi, I'm Lara! Let me tell you a bit about myself and the reasons why I am here to help you go from where you are, to where you want to be.
When it comes to training, I believe in discipline and commitment, but I also advocate for making it fun.
A key factor that has helped me the most to get where I am today has been the excellent teachers that I have encountered during my ongoing fitness journey. They have taught me the foundations of how to be an exemplary coach and motivated me thoroughly. I want to bring that to you, to help you feel your best and show you what body can achieve.
Not knowing how to start, what the correct technique is or which activities you can go for in order to enjoy the process can be overwhelming, and believe me when I say that getting help to start off makes a huge difference.
I am here to serve you through my enthusiasm and expanding knowledge. Let's not waste time and work together towards your goals.
Specialist Areas
Body confidence
Muscle tone and development
Weight loss
Qualifications
Level 2 Gym Instructor 
Level 3 Personal Trainer 
Beginners and intermediate pole fitness instructor