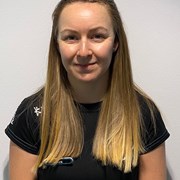 Contact
Free first session offered
Email me
Laura Sproat
Hi my name is Laura,
I am a Personal Trainer who specialises in training women to improve body confidence. I understand the societal pressures and challenges to look and feel accepted, this is why I design training plans to empower you.
I know first-hand how training can affect your mood, mind and attitude and that's why I always try to make your sessions challenging as well as fun.
Are you short on time? Feeling frustrated that progress is slow or non-existent? Have you tried a bunch of diets? How many times have you given up and re-started?
I would love to get more women into lifting weights, my training plans will improve your confidence, as well as accentuate your femininity through a stronger more toned shape.
Instagram: @phyrefitness
Facebook: [email protected]
Website: www.phyrefitness.com
I would love to hear from you, please get in touch where I would be happy to support any enquiries.
Specialist Areas
Bespoke plan
Body confidence
Body fat reduction
Muscle tone and development
Nutritional guidance
Pre and post natal
Weight loss
Qualifications
Certified Level 3 - Personal Trainer
Certified Level 2 - Fitness Instructor
Certified Level 3 - Pre/Post Natal