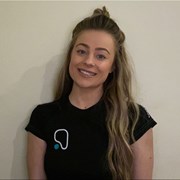 Contact
Free first session offered
Email me
Leah Harrison
'Exercise and training isn't just physical, your body can stand almost anything... it's your mind you have to convince'

Are you unhappy or self-conscious with how you look or feel? Does entering the gym give you a 'lost' feeling? Ive been there too! Until I reached a point where I knew change was needed & haven't looked back since! So are you ready for change?

My approach:
I will coach you through a personalised programme tailored to YOUR body, YOUR lifestyle, YOUR goal(s) and most important, YOUR mindset. Whether we start by mastering basic fundamental movements or taking that next step up in training methods, my aim is to get you on that journey of becoming the best version of you.
Specialist Areas
Bespoke plan
Body confidence
Body fat reduction
Muscle tone and development
Nutritional guidance
Persistent motivation
Weight loss
Qualifications
Level 2 Fitness Instructing
Level 3 Personal Training
Level 3 Sports Massage Therapist
Indoor Cycling
Kettlebell Pro Instructor