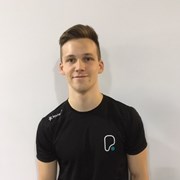 Liam Cameron
My approach to fitness and the approach I help my clients achieve based on training for health and functionality as this helps my clients feel at their best during day to day life.
This approach has helped me personally improve my own self image as I used to train for aesthetics this made me never feel like I looked good enough but once I started training for health and performance I started to look and feel better which made me more confident.
This has now become my mission to help as many people make this change in training philosophies to look and feel better about themselves.
Specialist Areas
Body fat reduction
Functional specialist
Sport specific training
Strength and conditioning
Weight loss
Qualifications
Certified Level 3 - Personal Trainer
Certified Level 2 - Gym Instructor