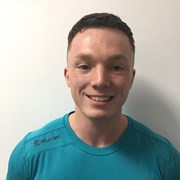 Liam MacAdie
I want to help you get strong. I want to help transform you.
I will teach you how to lift weights safely and effectively, I will teach you how to progress, I will teach you how to get strong as you change your body composition and how to eat for your goals.
I will guide you along the way and keep you accountable, weekly check-ins will provide you with a weekly schedule, calorie goals, activity goals and factors in recovery protocols including sleep, stress and digestion. I am not a trainer who you simply see one hour per week in the gym.
I will be in your corner every step of the way, give me your commitment and adherence to the plan and I'll help you achieve great things. 
My own training practice, having a coach myself, having qualifications in strength and conditioning and nutrition from a very reputable company gives me the tools and knowledge to allow you to help unlock your potential.
To get to know me more why not come along and try one of my classes and follow me on social media: IG- @liam.macadie
Specialist Areas
Bespoke plan
Body fat reduction
Injury prevention and rehabilitation
Muscle tone and development
Nutritional guidance
Strength and conditioning
Qualifications
Level 3 Personal Trainer
Level 4 Strength and Conditioning
Level 1 Precision Nutrition
Olympic Weightlifting for Athletes
Gym Based Boxing
Metabolic Circuits
Studio Cycling