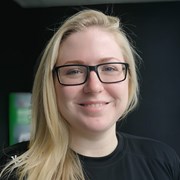 Contact
Free first session offered
Email me
Louise Hogg
Unlike most other PT profiles I've read, I wasn't involved in sport or fitness from a young age. I went to one hockey practice session in high school and never went back because I didn't like how much running there was.
I found the gym when I was overweight, had no self confidence and was saying no to social outings because I didn't have anything (that I thought I looked good in) to wear.
After months of wandering around the gym not really knowing what to do, I got myself a PT and found a passion that took me by surprise. I carried on what I was learning in the gym into studying health, fitness and exercise at college and then into my Level 3 Personal Training.
I became a PT because I genuinely want to help you get into, enjoy and be confident in (and out of) the gym and whatever stage you're at. Together we can work towards your goals whether it be losing weight, working on strength or improving general health, right down to feeling amazing just going out with friends. Being a part of the process that will have you looking, moving but also feeling better is why I am here. So feel free to get in touch, or grab me on the gym floor for a chat at any time!
Instagram: @louisehogg_pt
Specialist Areas
Bespoke plan
Body confidence
Body fat reduction
Persistent motivation
Strength and conditioning
Qualifications
Level 3 Personal Trainer
Level 2 Gym Instructor
HND Health, Fitness and Exercise
Indoor Cycle