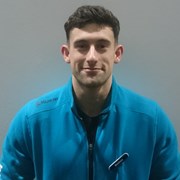 Matt Jorgensen
Hi, I'm Matt, I work with PureGym here in Sunderland. I specialise in areas such as fat loss/ toning in both men and women.
I have played very high level football and have been involved in fitness, including a degree in sports coaching for several years. Due to this, I have a vast amount of knowledge on various different training methods and techniques which helps me to allow my clients to achieve their best shape ever!
Of course the aim of training is to achieve the results we set out to achieve...however...it is just as important to me that you enjoy the process. The more you enjoy our work together the more you will appreciate the results you will gain.
In the time that we work together, we will focus on everything you need to achieve your ideal shape! Paying attention to nutrition, training/exercise and making sure that you are fully focused on your goals...commitment will be your biggest asset during this process/journey.
So...when you are ready to make that all important step to better yourself in any way you deem fit, you can always reach me!
Email: [email protected]
Contact hours: 8am-8pm (Mon-Fri)
Contact Number: 07575 907 700
Another option is, you are more than welcome to come and find me in the gym and approach me anytime. I am always happy to help!
Looking forward to working alongside you.
Specialist Areas
Body confidence
Body fat reduction
Muscle tone and development
Nutritional guidance
Persistent motivation
Sport specific training
Strength and conditioning
Weight loss
Qualifications
Level 3 in Personal Training
1st class Hons Degree in Sports Coaching Bsc
Level 2 Gym Instructor
Emergency First Aid