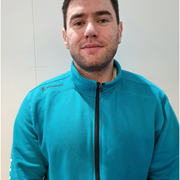 Matthew Bradnack
Hi, my name is Matt and I am a proud member of the PureGym team.
After Spending some time as a personal trainer I have used my gym knowledge to step you to a managerial role. 
As your AGM, I want to be an approachable individuals that shows care and attention to your needs and opinions. I love to see you all work so hard towards your goals and I am always on hand to offer support and advice where needed, all you have got to do is ask.
My vision is to drive the club forward where me and my team deliver great gym floor standards, a clean and safe place where you can train but most importantly somewhere that is welcoming and a fun environment to be in.
I look forward to seeing you on the gym floor or in one of our great classes.
Specialist Areas
Injury prevention and rehabilitation
Muscle tone and development
Sport specific training
Strength and conditioning
Qualifications
Level 2 Gym Instructor
Level 3 Personal Training