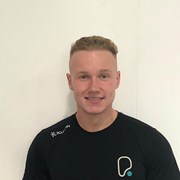 Matthew Ramsden
Hi there, thank you for taking the time to read my profile. After years of training and research I have gained lots of experience, knowledge and understanding of how to help people achieve their goals such as weight loss and muscle tone. The most satisfying aspect of my job is seeing the confidence, enjoyment and sense of achievement my clients feel after each of our sessions.
Whether your goal is to become healthier, build muscle, gain strength or even fit into those old jeans you used to wear. I am very focused and committed to working alongside you to reach your goal. I enjoy working with my clients, as not only are the sessions intense and rewarding, they're also fun!
My sessions will be totally adapted to your fitness levels and goals. Through this, I will introduce new exercises to ensure you are benefiting from them and also learning why you are doing them. Whatever your goal is, without the correct nutrition you are going to struggle to reach it. Which is why I also specialise in writing nutrition plans.
For any free advice please do not hesitate to ask me on the gym floor. For any other enquiries please email [email protected]
Specialist Areas
Body confidence
Body fat reduction
Muscle tone and development
Nutritional guidance
Weight loss