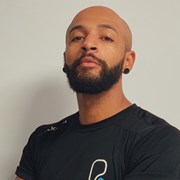 Contact
Free first session offered
Email me
Max Ramirez
As a professional fitness trainer, my passion is to guide people towards a healthier lifestyle. Everybody is unique with their own strengths and limitations. My method is to find the right balance between fun and challenging custom-made plan based on your health, schedule and most importantly your fitness goal. 
I aim to transform your body and focus your mind to enable you to make more positive decisions when It comes to your health and wellbeing. 
My experience and passion comes from participating in physical activities such as Baseball, Football and dance from a very young age. Through this experience I have learned that discipline, consistency and sustainability are the keys to success and will enable you to support yourself in and out of the gym. 
Join me to help lead you to become a happier and healthier both physically and mentally. 
Please contact me for a consolation and join me on my social media.
Let's stay connected. 
Mail: [email protected]
Instagram: 1RMPT 
Specialist Areas
Body fat reduction
Functional specialist
Muscle tone and development
Nutritional guidance
Qualifications
Level 3 Personal Trainer
DPD in Fitness testing
DPD in cycling