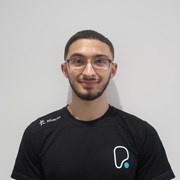 Michael Bssada
My fitness journey started three years ago and like
many people, I wasn't happy with what I saw In the
mirror. Unlike most journeys, my goal was to bulk up
and gain muscle, so I stuck to my targets and did
everything in my power to achieve them. As my
journey went on, I fell in love with the rewarding
factors of health and wellbeing. My goals did not
only help with my physical wellbeing, but also
mental wellbeing, which has taught me the positive
effects of exercise on the mind.
My years of knowledge within the gym have taught
me how to adapt my skills and techniques to suit
others' goals. Training with me won't feel like a
chore as I believe fitness should be an enjoyable
part of anyone's lifestyle. I am determined to help
anyone reach their maximum potential. Together,
we could craft a personalized plan to help you
achieve your desired fitness target
SO WHAT ARE YOU WAITING FOR??
I'm always in the gym, so if you see me don't
hesitate to pull me for a chat!
Specialist Areas
Muscle tone and development
Nutritional guidance
Sport specific training
Strength and conditioning
Weight loss
Qualifications
- Level 2 Fitness Instructor

- Level 3 Personal Trainer

- First Aid.