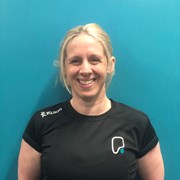 Naomi Reading
Since I can remember fitness has played a huge part in my life, my passions were through my love of outdoor sports such as horse riding, rock climbing, swimming and hiking. In my late 20s, I found myself suffering from anxiety and found going to the gym a release and a real help to cope with it.
Being a mum of three comes with its own challenges, I understand routine can be tough and finding the time to put yourself first is not always possible. I find ways to include my children but also am an advocate for finding quick ways to be efficient with time when it comes to helping someone with their workouts.
I will make it my utmost priority to put you first and be with you every step of the way. Now is the time to put your trust in me to help to get you to where you see yourself. By taking that all-important first step in the right direction to a better you.
If you have any questions health and fitness-related or want to try a PT taster session, come see me on the gym floor or send me an email through the website.
Specialist Areas
Body confidence
Body fat reduction
Persistent motivation
Special populations
Weight loss