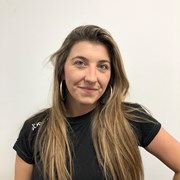 Contact
Free first session offered
Email me
Natalie Smith - Jones
With a background in sports massage therapy and Martial arts training, I have an expert knowledge on injury prevention, nutrition, weight loss and self-defence. I have successfully trained clients wanting to lose weight and I have a large personal profile in dealing with dysfunctions and physio needs.
I have not always been fitness motivated. Before attending University, I enjoyed K1 martial arts, specialising in semi contact fighting and self-defence. Attending University and having my daughter became major lifestyle changes for me. I found myself at 14 stone and realised that my once healthy body was becoming tired and run down. This is when I decided to take a conscious effort in my weight loss Journey (something I've never had to do before) losing 4 stone in just under a year.
I am now happier than I have been in a long while and decided I wanted to share my success with others. I took it upon myself to gain my PT qualification and ultimately my goal is now to help others in making lifestyle changes for the better.
I know full well how hard it is to set your goals and reach them and that is why I am here!
I can help with setting goals, keeping you motivated and hitting targets. As a Personal Trainer I feel that communication is key in dealing with clients and I promise you just that. I pride myself in reaching my targets and when you become my client your goals are now my goals. I will regularly keep in touch with updates and question to ensure that you are still on track and I will ensure all of this is carefully tailored to your needs and lifestyle. Not everyone lives the same lifestyle or has the same goals and it is my job as a PT to help figure out what best suits every individual.
I will tailor your sessions around things that you enjoy but I will also monitor your progression by pushing you out of your boundaries at times. During your consultation, I intend on identifying your short and long term goals, assessing injuries and dysfunctions that enables the best possible training package for you.
If this sounds like any interest to you feel free to catch me in the gym or alternatively book yourself onto a free complimentary induction that's provided to everyone attending PureGym.
Happy training guys.
Specialist Areas
Body confidence
Body fat reduction
Injury prevention and rehabilitation
Nutritional guidance
Strength and conditioning
Weight loss
Qualifications
Active IQ level 3 Certificate in Personal Training
Active IQ Level 2 Certificate in Fitness Instructing
Sports Massage Therapy Diploma Level 3
K1 Martial Arts
First Aid