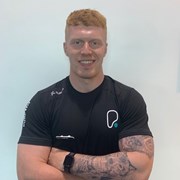 Nathan John
Ever since I was old enough to remember, I've lived and breathed sport. Starting out from a combat sports background, I transitioned into Rugby where I would go on to represent the Ospreys at u16 and U18 level. When it became clear that this was as far as I would make it professionally, I decided to make a transition.
My passion has always been sport and exercise, and after going to University at Cardiff Met and getting my degree, I decided that I wanted to use the fundamentals I learned to help driven individuals achieve their health and fitness goals.
I also believe that there is far too much misinformation in the fitness industry (particularly online), and it's because of this that I not only want to train my clients but to educate them, so that they can make informed choices for themselves.
Interested? If so then please get in touch, and lets get to work!
Specialist Areas
Body fat reduction
Functional specialist
Nutritional guidance
Sport specific training
Strength and conditioning
Qualifications
Level 2 Gym Instructor
Level 3 Personal Trainer
BSc Strength and Conditioning, Injury Rehabilitation and Massage
Level 4 ITEC Sports Massage Therapist