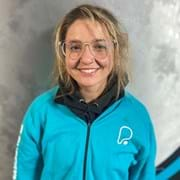 Niamh Pollard
Hello! My name is Niamh and I`m the Pocket Rocket PT - here to equip you with all the skills, knowledge, confidence and independence to become the best version of YOU.
I have been where you are. Not sure where to start and extremely unsure.
6 years ago, I was classed obese with 0 gym experience. Failing dozens of times to get to where I wanted to be, I also reached out for help.
I will take the guesswork out of the equation for you, and with years of experience and even more client transformations, I am confident I will help you achieve more than what you think you are capable of.
I cannot wait to help you achieve your goals and cheer you on every step of the way.
Specialist Areas
Body fat reduction
Muscle tone and development
Nutritional guidance
Strength and conditioning
Weight loss
Qualifications
- Level 2 Gym Instructor
- Level 3 Personal Trainer