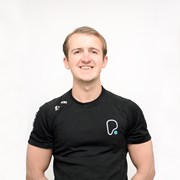 Nick Lockwood
Hi, I'm Nick and if you're reading this there is a good chance you are ready to get into the shape of your life.
My goal as a coach is to help you improve your life through fat loss, increased strength and muscle tone. Maintain these results by empowering you to make smart eating, training and lifestyle choices for the rest of your life.
My Personal Training services are about you and your results. You tell me what your goals are and we'll build an action plan giving you the training plan, nutritional guidance, accountability and support you need to transform your goals into reality and maintain them for the long term.
If you want to lose fat, increase your strength and muscle tone, send me an email:
Specialist Areas
Muscle tone and development
Nutritional guidance
Weight loss
Qualifications
Second Class (first division) BSc (Hons) Sports Science & Coaching
REPS Level 3 Certified Personal Trainer
Kettlebell Instructor
REPS Level 2 Gym Instructor             
SAQ (Speed Agility Quickness) PSM Award
NGB Boxing Level 1 Coaching Assistant 
Amateur Athletics Level 1 Coaching Assistant
ASA Level 2 Aquatics Teaching/Coaching
ASA Level 1 Aquatics Teaching/Coaching