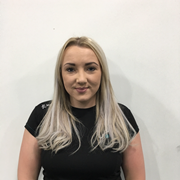 Nicole Paterson
Have you ever felt unhappy or self conscious in the body you are in? Yeah?
I can relate. I have been there, trying to achieve a body that I thought would make me happy but once I reached it...turns out it never did. I may have looked good on the scales but inside I was still unhappy. I realised my relationship with food and exercise was very unhealthy and something had to change, so I studied my passion and went on the road to recovery. I taught myself how to fuel my body correctly and how to exercise to achieve the physique I would finally feel confident in, and here I am today as a Personal Trainer who has learned from her own mistakes and now teaches others the right way of achieving their goals mentally and physically.
I specialise in supporting clients to achieve the body they have always wanted but never had the motivation or drive to achieve it before, with a combination of tailored gym programming, nutritional support and most importantly a social life balance. Yes, you can still enjoy yourself whilst improving your health!
My main client areas are mental health recovery and women's fat loss/muscle gain.
If you would like me to support you in reaching your goal, come say hi on the gym floor or drop me an email.
It's never too late to start!
Specialist Areas
Bespoke plan
Body confidence
Body fat reduction
Muscle tone and development
Nutritional guidance
Persistent motivation
Postural correction
Weight loss
Qualifications
Level 3 Personal Trainer
Level 2 Gym Instructor
Nutritional Advisor
Metafit Instructor
TRX Specialist