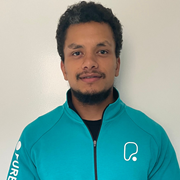 Pierre Jackman
HI I'M PIERRE, A PERSONAL TRAINER AT PURE GYM GREENWICH
I started my fitness journey 8 years ago when I first began going to the gym, lifting weights with my childhood friends. Since then, keeping fit has become my growing passion.
I am young, easy to get along with and always ready to have a friendly chat. The gym is a great place for that, so I stuck myself where I feel comfortable. I grew up in south London, surrounded by a variety of people from many backgrounds and have made friends from all different walks of life. And I believe everyone should be treated fairly in and out of the gym.
In the gym I enjoy circuit, metabolic and bodyweight training, as well as plyometrics, weightlifting and core workouts. I aim to make every day better than the one before and help one person at a time in becoming better each day. If you are looking to improve mentally and physically don't hesitate to say hello. My arms are always open.
IG: @pee_waved
Specialist Areas
Body confidence
Body fat reduction
Muscle tone and development
Strength and conditioning
Weight loss
Qualifications
Level 2 Fitness Instructing
Level 3 Personal Training