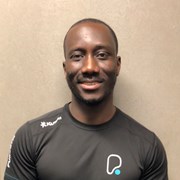 Poku Kesse
I am an Exercise and Sports Science Graduate and I have been a Personal trainer for the past nine years.
I carefully observe and listen to what my clients want to achieve. I understand what it means to my clients to strive for the best results. Together as a team we will constantly push to the upper limits.
I won't just be your trainer, but a professional friend who will always have your best interest at heart. My goal isn't just to please my clients...my goal is to amaze them!
Let me take care of your journey to your goal, all you need is the courage to start! Live life to the full:- "Train Hard Look Sexy"
Specialist Areas
Body fat reduction
Muscle tone and development
Nutritional guidance
Sport specific training
Strength and conditioning
Weight loss
Boxing
Qualifications
Sports and Exercise Science
Level 3 Personal Trainer 
Power plate training
Kettlebell training
First aid training
Circuit training