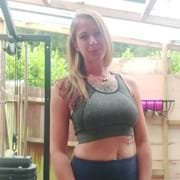 Rebecca Ettienne
Creating a healthy, sustainable lifestyle can be hard for most people; and can feel impossible when your spare time is taken up looking after your family.
As a busy Mum of 4, I am well aware of how difficult it can be to make your own health and fitness a priority; especially when going to the gym feels like a chore…
I specialise in helping clients find their passion for exercise, helping them to feel better mentally and physically whilst creating a lifelong love for fitness. 
Whether your aim is to lose weight, change your body composition or simply improve your health; I can create a personalised programme to help you reach your goals and support you every step of the way.
Find me on the gym floor, or drop me a message to discuss your goals
Specialist Areas
Body fat reduction
Muscle tone and development
Weight loss
Qualifications
L2 Fitness Instructor
L3 Personal Trainer
Studying towards Certified Nutrition Coach