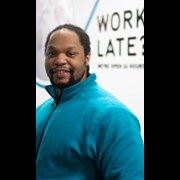 Rhys John
Today is a new day. Even better, it's your new day to make the change you've always wanted to make.
My name is Rhys. I'm a Personal Trainer who's always enthusiastic and passionate about helping people on their journey to a healthier lifestyle.
I'll always be willing to help and talk to any individual on a one-to-one basis about how their journey is going, so feel free to approach me at any time.
One of the main parts of living healthy is being positive at all times even when you think you can't do better. Being positive will make you stronger and give you the confidence to take on the world.
You'll always smile and have fun with your workouts with me because that's what being healthy is about - being happy with yourself.
I'll make sure every training session counts! With me, you'll always look on the bright side.
Specialist Areas
Bespoke plan
Body confidence
Body fat reduction
Muscle tone and development
Nutritional guidance
Qualifications
Level 2 Fitness Instructor
Level 3 Personal Trainer
Nutrition
Basketball Coach
First Aid