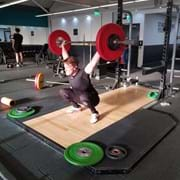 Rory Costello
I completely transformed my body through Crossfit and lost nearly 20 kilos of bodyweight in the process.  I became the fittest, leanest and strongest I've been in years.  Through hard work I achieved my fitness goals and now I want to help you achieve yours.
I am a Personal Trainer who has over 20 years of experience in the gym,  I use knowledge from all areas of my training to enable my clients to reach their highest potential.  Whether clients want to loss weight or develop muscle and strength, my background in fitness and years of being a personal trainer makes me an excellent coach for achieving this.
I use a combination of strength and conditioning, body weight exercise, cardiovascular training, and mobility drills to progress each clients fitness and health development. We work together, analyzing lifestyle, diet, and training habits, whilst continuously striving towards personal goals.  One of the greatest joys I get as a personal trainer is getting members away from ineffective resistant machines and teach them far superior free weight exercises, that are better suited for their training goals.
My aim is to introduce myself to every member of the gym.  So if you don't approach me, I will certainly try my best to introduce myself to you and ask how your workout's going?
Specialist Areas
Body fat reduction
Muscle tone and development
Nutritional guidance
Sport specific training
Strength and conditioning
Qualifications
Level 2 in fitness instructing
Level 3 Personal Trainer 
Currently taking level 4 Strength and Conditioning and Level 4 Nutrition