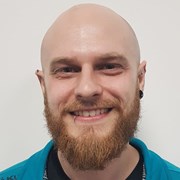 Contact
Free first session offered
Email me
Ryan Griffin
What's stopping you?
I ask myself this question every time I set myself goals and the answer is always the same, nothing! You can achieve anything you want if you believe you can. The key is consistency, hard work and determination.
As a professional wrestler, I've learned that these three factors are vital for climbing that ladder to success. With consistency, hard work and determination I was able to become Scottish Junior Heavyweight Champion, and I was able to hold that title for 581 days! Nothing beats that feeling of success and this is why I became a Personal Trainer so I can help you achieve your goals, so you too can feel like a winner.
I love working out, and what motivates me the most is keeping my workouts varied, whether your goal is to burn fat, get lean, build mass or perfect your aesthetic. I'll establish your needs and design the perfect workout for you, so you can create the body you've always wanted.
Working together, we can set you some specific and achievable goals to build a plan that suits your needs. Only you can achieve this. How? Consistency, hard work and determination and I am here to give you that push!
So...what's stopping you?
Specialist Areas
Bespoke plan
Body confidence
Body fat reduction
Muscle tone and development
Nutritional guidance
Persistent motivation
Weight loss
Qualifications
Level 3 Personal Trainer
Level 2 Fitness Instructor
Indoor Group Cycling
Circuit Instructor