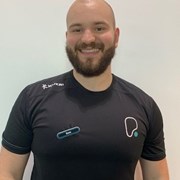 Contact
Free first online session offered
Email me
Sam Cochrane
I am a semi-professional rugby player with Pontypool RFC and have trained within a professional strength and conditioning environment for a number of years. From a young age I have been obsessed about playing sport and keeping fit.
This obsession has carried on into my education around health and exercise where I studied at Cardiff Metropolitan University for four years in this topic. Through my studies and as a trainer I have had experience within a variety of sports as well as time spent working in National Exercise Referral Scheme Wales.
I have a keen interest in training individuals with low confidence in a gym environment, improving functional movements in older adults and those who want to make sport-specific gains. Therefore I cater to a variety of client's needs!
I have no doubt that from keeping fit and adopting a healthy lifestyle for a number of years has had improvements on my mental and physical wellbeing, and I am keen to drive these values for others and get them as obsessed about health and fitness as I am!
My communication hours are 9am – 5pm if you would like to drop me an email to chat further.
Specialist Areas
Functional specialist
Muscle tone and development
Sport specific training
Strength and conditioning
Qualifications
BSc in Sports and Exercise Science
PGd in Health and Physical Activity
Level 3 in Personal Training