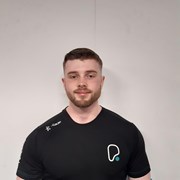 Sam Hill
At a young age I knew that I wanted to help others and I have now managed to find the outlet to do so through my passion for the fitness industry.​
For most of my life I was extremely overweight and was well on my way to developing health complications due to obesity. At 15 years old, I decided I needed to make a change to become healthier, more confident and happier in general. Throughout my journey I have tried various techniques and methods to push myself and achieve what I once thought was impossible. I fell in love with training and became motivated to share my story and use my knowledge and experience to guide others. ​
I have been the beginner who had no idea where to start. I've made mistakes and I know how hard it is to get to where you want to be. I understand exactly how you may feel. I walked through the gym doors with nothing but the desire to be able to look in a mirror and be happy, and the drive to do whatever it took to get there. So let me help you to achieve whatever your goal is. Your journey will be my main priority and we will work together to get you wherever it is that you want to be.​
If you're interested in working with me, would like some advice or just a general chat, come and find me on the gym floor and ask me anything or contact me via instagram, whatsapp or email.​
 ​
​
Specialist Areas
Bespoke plan
Muscle tone and development
Weight loss
Qualifications
Certified Level 2 Fitness Instructor
Certified Level 3 Personal Trainer