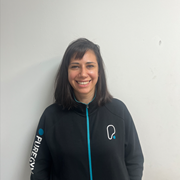 Contact
Sam Temel
Hi I am Sam!
I love being outdoors and being a tomboy, don't get me wrong I also love dressing up and feeling girly for a couple of hours.
When I was younger, I always played football with my brothers, and I was usually found either in a tree or doing something exciting for me but dangerous for my parents.
I was always picked for sports day events, and I did manage to win a few medals, when I finished school, I went to do other things but always found myself enjoying life the most when I am outdoors and doing activities competing and when I am in the gym. It is so important to work out for physical health, your future and metal health. I have a background working for the NHS and Care for 7 years, I am always happy to help and chat, so when I'm around please come to talk to me. I would be happy to help in all areas and coach you in achieving your goals in the gym and outside in your home life.
I live a Flexitarians (aka Flexible Vegetarians) have a plant-based diet with the occasional addition of meat, I have been Vegan in the past and a vegetarian for over a year but for health reasons Flexitarian diet fits me best. I am interested in all sides of nutrition and fuelling your body for physical health.
Within my service we will focus on your goals, and we can do a mesocycle that fits your needs with realistic goals and a time frame in which we can achieve that by. If you have any questions come find me on the gym floor or call or text me.
Specialist Areas
Bespoke plan
Body confidence
Functional specialist
Nutritional guidance
Pre and post natal
Weight loss
Qualifications
Level 3 Personal trainer
Level 2 Fitness instructor