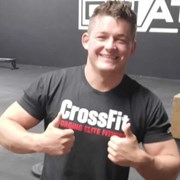 Scott Bentley
Hello I'm Scott 
I became a Personal Trainer in July 2020 shortly after leaving a career as an Officer in the Royal Navy. I decided that I had to pursue something more fulfilling. My own journey in the gym started at 15 years old. On my first day I did the bench press and from this moment on I was hooked on lifting weights. I now not only train for the physical aspect of improving the function of my body but also for how much it improves my mental health. I now seek to pass on my 13 years personal experience to others and make long standing changes to their lives through improvement in physical and mental wellbeing.
I'm currently studying an MSc in Strength and Conditioning alongside playing Rugby Union at Plymouth Albion RFC. I'm always looking to improve my physical prowess for sport performance but also improve my knowledge so I'm better capable of helping others achieve their goals. 
I have experience in injury rehabilitation, CrossFit, Olympic Weightlifting, Powerlifting, Natural Bodybuilding, training for sport performance and testing and screening for movement quality. If any of this excites you - please grab me in the gym and pick my brain, I'm always keen to share secrets.
Specialist Areas
Body fat reduction
Functional specialist
Nutritional guidance
Sport specific training
Strength and conditioning
Boxing
Qualifications
Level 3 Personal Trainer
Level 2 Gym Instructor
CrossFit Level 1 Instructor
Coaching Powerlifters - Michael Zourdos
Coaching Physique Athletes - Eric Helms