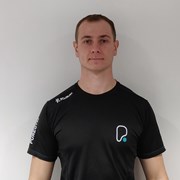 Sean Stuchbury
Hello, I'm Sean and I've been training for five years, firstly to improve my rugby performance by increasing my strength and size. Now I have now changed my training methodologies specifically into Olympic weightlifting and through my university course I have been trained by many coaches of international or national standards in powerlifting and Olympic weightlifting. I have learnt so much more to do with training, consistency, techniques as well as all the information a Level 3 Personal Trainer would know.
The Personal Trainer qualification gave me the insight and passion to further my knowledge on the body and mechanics behind training, leading me to study Strength and Conditioning Science at St Marys University, Twickenham. When I work with a client I'm going to be looking into scientific principles behind fat loss, or weight gain, strength training and sport-specific conditioning ensuring their specific needs and goals are the backbone of their training.   
As a PT or a programme writer I want you to choose what goals you are looking to achieve. If you want to be match fit for sports I have the know how to get you there, if you want to look good on holiday I can help, or if you want to hit a certain number in a certain exercise I can help structure your training to get you to where you want to be. I enjoy nothing more than helping someone get a step closer to their goal.
If you see me in/around the gym say hello I'm always happy to talk, spot you when lifting heavy or just up for a chat or a laugh. I love the gym environment and if we all work hard and keep working together we can all achieve our goals. Seeing people improve themselves and enjoy their progress motivates me.
Specialist Areas
Body fat reduction
Persistent motivation
Postural correction
Sport specific training
Strength and conditioning
Weight loss
Qualifications
Level 3 in Personal Training
Level 2 Fitness Instructor
Weightlifting Coach