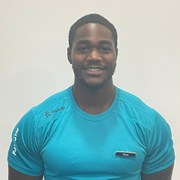 Shaquille Channer
I am a fitness enthusiast who has been training for just over 7 years. Over this period of time, I have acquired a Level 3 personal training qualification and gained a substantial amount of experience and knowledge in the fitness industry. I understand exactly how the body works when we train and how we can incorporate different systems to make a difference to our physiques.
I have been consistent with my training since I started and have been able to put my body through various different stages. For instance, when competing I have to adopt a calorie deficit diet, whereas when I am not competing and I need to gain muscle, I implement a calorie surplus diet.
My aim now is to share my practical and theoretical knowledge with people that want help with making a change to their lives through fitness, whether it's fat loss, muscle gain or even just a lifestyle change. I'm here to help you reach your desired goals!
Specialist Areas
Body confidence
Muscle tone and development
Strength and conditioning
Qualifications
Lvl 2 Fitness Instructor
Lvl 3 Personal Trainer