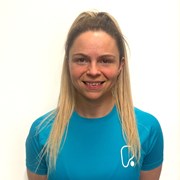 Sioned Besent
Having being a professional dancer for many years Personal Training was an obvious progression for myself.
 I have worked with many different individuals over the years and continue to love what I do, helping people achieve there goals and making healthier lifestyle choices that they've taken forward and continue to practice in there day to day lives.
Personal training session with me go further than the time you spend with me in the gym, you'll have 24/7 hour support, nutrition guidance, progressive and individual programming tailored to your specific goals.
Come and say hi to me on the gym floor whether its just for a chat or if your interested in changing not only the way you look but also the way you feel and lets start your fitness journey today!
Specialist Areas
Body confidence
Muscle tone and development
Weight loss
Qualifications
Level 2 Fitness Instructor
Level 3 Personal Trainer
PCES Level 3 Pre & Postnatal Training