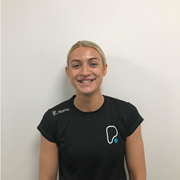 Sophie Poole
"To get the results you want you don't have to be extreme, just consistent"
As someone who has tried every weight loss fad you can think of, I know how damaging extreme measures can be not only to your physical health but your mental wellbeing as well. Chasing quick fixes but not being able to maintain anything long term, feeling uncomfortable in your own skin and wanting change so badly but having no idea where to start.
My aim is to help as many women as possible improve their overall health and wellbeing through exercise and the positive lifestyle changes that a regular fitness regime brings; bringing the focus away from just aesthetics and the number on a scale and shifting it to how you actually feel.
There is no 'one size fits all' when it comes to fitness, and my job is to help find what works for YOU by working with you to understand your body, your lifestyle, your barriers and your goals to help you achieve sustainable long-term changes and results whilst actually enjoying the process.
If you would like any tips, advice or a more in-depth chat, feel free to grab me on the gym floor, after one of my classes, or get in touch through my social medias (@sophiepoolept) – I would be more than happy to help! 
Specialist Areas
Bespoke plan
Body confidence
Body fat reduction
Muscle tone and development
Nutritional guidance
Persistent motivation
Strength and conditioning
Weight loss
Qualifications
NASM L3 Certificate in Personal Training